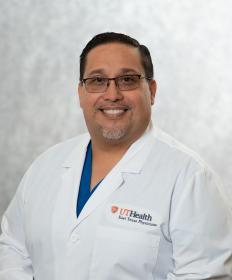 Schedule Online
Review Score:

Physician Group:
UT Health East Texas Physicians
Practices At:
Hours:
Monday - Friday 7 a.m. - 5 p.m.
*Age Range: Six months and up
As an internal medicine physician in Quitman, Dr. Rick Martinez urges his patients to come in for regular checkups. It helps him to get a jump on potential health problems, such as diabetes.
His Hispanic heritage and a family history with diabetes has piqued his interest in the disease. Coupling his medical knowledge with his personal experiences helps him understand the disease and explain how to cope with it to his patients.
"You can still have a good hispanic diet, if you want. Just let it be healthy. Change now, so that you can avoid problems later."
Dr. Martinez is fluent in English and Spanish, and moved to East Texas from Houston in 2002. He believes he made the right move. "This is going to be my home for quite a while."
Education:
Internal Medicine Residency: University of Texas Health Science Center, San Antonio
Doctor of Medicine: University of Kansas School of Medicine, KS
Bachelor of Science: University of Missouri-Columbia, MO
Texas Medical Association, Member
American Medical Association, Member
UT Health Quitman, Medical Executive Committee
University of Texas Health Science Center at San Antonio, Intern of the Year
Department of Internal Medicine, University of Texas Health Science Center at San Antonio, Dr. Levine Award for Compassion